Garage Door Parts Installation
Garage Service Pros is your go-to when it comes to residential garage door hardware installation services. We are highly trained professionals equipped to handle your garage door hardware needs. If your residential garage door is in need of service, contact us. It is recommended that garage door parts installation is performed by a professional, and our contractors are at your service.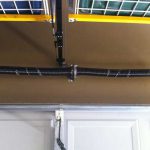 The spring system is by far the most important component to a working garage door and it's also a part that is commonly repaired. Garage doors use either extension springs (on either side of the track, often used on lighter doors), or torsion springs (typically above the door opening for heavier doors). Replacing garage door torsion springs is dangerous because the springs are under tension. If you do not use the right tools and follow safe procedures, you could lose hands, limbs or even your life. You could also damage property. Even our manufacturers, like Clopay, recommend that only a trained garage door professional install garage door springs.
Another common type of repair is to the door rollers. There are basically 4 types of rollers that are used for garage doors. All rollers are made with steel stems with wheels at one end of roller. The difference is in the wheel itself:
Plastic rollers do not use ball bearings in their construction.
Steel rollers come 2 ways – with ball bearings and without ball bearings.
Noiseless nylon rollers are pretty much identical to a skateboard wheel or roller blade wheel and have a ball bearing system built in.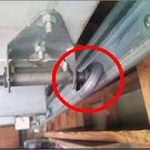 When we see damaged rollers, we always recommend replacing them with 13 ball bearing, precision nylon rollers. The nylon rollers with ball bearings give the roller more life are much quieter. However, the bearings may need to be lubricated regularly. After this repair is done, there is an overwhelming difference on how your door functions from that point on.
Broken cables or cable off its drum are also pretty common. The track guides and shields the chain, screw or belt as it moves the door open and closed. It connects the operator to the trolley, which in turn is connected to the door. When these cables fray and break the door can not function properly or safely. We recommend replacing the cable with a chain drive that will last longer, even if not oiled regularly.
Not only are rusty hinges likely to discolor the door, they are a real safety concern. Trouble signs include the door may open with difficulty or the door will be noisy when it operates. Rust is a clear indication of age or low quality material. Broken hinges are capable of deforming the door's guide tracks or damaging its panels. The longer you wait to replace the hinges, the more likely it is that you'll end making other major repairs.
Damaged garage door panels are also fairly common. Panels can be damaged by another issue with other garage door parts, like damaged hinges or rollers. Doors panels can also be damaged by the handle and locking mechanism, physical damage from a car and wind and hail. If the panels are damaged, they need to be replaced as soon as possible.

The motors for your garage door can fail, too. As a result of other problems, the opener may be using it''s safety features and cause the opener to stop and reverse back open. Other problems with the motor may be faulty wiring, misaligned or defective safety sensors or damaged gears. Gears can get stripped due to excessive pressure with the door being out of balance. Age and usage is also another driving factor.
Damage to the track is fairly common as a result of another issue, like any of the above problems. Most likely, the track has been twisted so the door can't roll up and down smoothly. This causes even more stress to the other garage door parts. But, the track itself can be damaged in other ways like rust from weather conditions, metal fatigue from repeated door weight put on the track, and normal shifting of the foundation and construction materials, and hence, door parts, over time.
Garage Door Parts Installation Service for Houston & Dallas
Garage & Gate Service Pros is your go-to residential garage parts installation for homes in Houston and Dallas. Contact us today!
If you have an emergency with your garage door or garage door opener, please give us a call 24 Hours for service 7 Days a Week. Garage Service Pros is licensed and insured and offers 24/7 emergency service. Call us at 800-528-6034 or contact us here »