Residential Garage Door Repair
After providing residential garage door repair services to thousands of homeowners and business owners for the last 15 years, we at Garage Service Pros, feel we can handle any and all repair situations that you could possibly have. From minor repairs such as broken hinges, or frayed cables, to more difficult repairs such as broken springs, or door off tracks. We specialize in ALL garage door repairs. We possess the right tools and knowledge to be able to fix your residential garage door problems quickly, and affordably.
There are several reasons that your garage door may not work properly.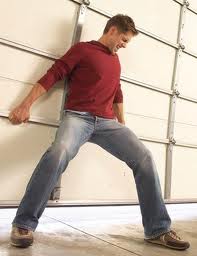 Is Your Door Extremely Heavy to Lift?
If the door is difficult to lift or the garage door opener only lifts the door a few inches before it stops, you probably have a broken spring. The most common residential garage door repair is a broken spring. The spring system is by far the most important component of a working garage door.
Unfortunately, a broken spring usually happens at the most inconvenient time. When it does happen, there is not much you can do about it on your own. Fortunately, the staff at Garage Service Pros are on call 24/7 to speak to you regarding your issues. All of our springs are backed by GSP certified warranty.
Is Your Garage Door Extremely Noisy?
Another common garage door repair service is to the metal roller, which may make grinding or screeching sounds when it is traveling up and down. We always recommend replacing them with 13 ball bearing, precision nylon rollers. If you do not address the wearable parts on your garage door as they progressively wear down, your door could potentially go off track, put undue strain and damage on your garage door opener or may even cause far more extensive damage to the sections of the door.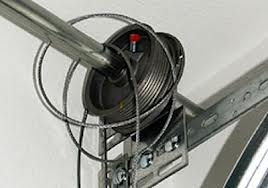 Do you have a cable off or is your door off track?
Your garage door may have a cable loose, or doors off track are pretty common. A "door off track" can be accidentally caused by the homeowner. It usually occurs after accidentally shutting the door on an object, like the rear bumper/hatch of your car/SUV.
This can also be the outcome of having the garage door opener trying to open the door while the manual lock is engaged. Other times, this repair can unfortunately happen on its own. When a door off track occurs on its own, it can be caused by worn-out parts on the garage door. At that point, a full door inspection is critical in determining why this occurred, and what parts may need to be replaced to prevent it from happening again.
Broken or frayed cables? Damaged panels? Broken hinges?
Garage Service Pros are also expert repairmen for broken or frayed cables, damaged panels, and broken hinges. No matter what the problem is, Garage Service Pros, will help get your door back to excellent working condition. We have been servicing the residential garage door industry for years and we know what is causing your garage door to not work properly. Save yourself the time and hassle and give us a try.
Residential Garage Door Repair Services in Texas and Colorado
Trust Garage & Gate Service Pros for your residential garage door repair needs in Texas or Colorado. We are backed by years of experience and are here to serve you!
If you have an emergency with your garage door or garage door opener, please give us a call 24 Hours for service 7 Days a Week. Garage Service Pros is insured and offers 24/7 emergency service. To learn more about Garage Service Pros call us at (800)528-6034 or schedule repair service online »