Garage doors are essential elements of our homes. Not only do they grant our home protection, but also they can boost your home's curb appeal by a lot. For this reason, it can be a burden when your garage door becomes faulty. That's why today we'll show you the right way in how to repair a garage door.
But first, you need to know the main problems your garage door might be presenting. From having annoying noises to become frozen, the type of issue your door might have will vary the solution it will need.
For this reason, after correctly assessing your garage door, you'll be able to repair it. In this article, we'll show both the easy fixes and the long process of repairing springs and cables. So keep on reading to learn more!
Common Garage Door Problems
There are many reasons why your garage door might start presenting problems. By monitoring your garage door regularly, you'll be able to keep track of its condition. In other words, 
For this reason, you need to ask yourself the following questions when evaluating your door's condition:
Are there any loose screws and bolts?
Are your door's tracks adequately aligned?
Do your garage door springs swing correctly?
Do you get stuck outside regularly?
Is your remote control functioning correctly?
Depending on your answer, you'll be able to pinpoint the reason behind your garage door's malfunctioning. 
When it comes to common garage door problems, some of these include:
Loud noises
Frozen doors
Broken glass
Faulty remote control
An open garage door without closing
After correctly assessing your garage door, you can now start taking action with the fixing. We'll first go into the small and quick fixes, and then we'll go over into fixing springs and cables.
Small and Quick Solutions in How to Repair a Garage Door
Sticking Rollers and Tracks: Rollers naturally spin when you open your garage door. When counting on a stuck roller, it may start to 
Noisy Garage Door: Luckily, you can fix a loud garage door with the correct maintenance and changing some parts. Among these parts, you may need to change your hinges. Also, bear in mind that old metal tracks tend to become noisy.
Frozen or Stuck Doors: Frozen or stuck doors tend to happen when there's not too much moisture in the environment. When counting on stuck doors, the best solution is to either use a hairdryer or heat gun to melt the ice. Additionally, don't force your garage door to open, since you can cause severe damage to your garage door opener. 
Broken Glass: Broken glass in garage doors is quite common for those homeowners with children that like to play in the front yard. For this reason, when counting on broken glass, the best thing you can do is to replace your glass pane. It'll be the same as replacing any house window. Also, try to replace it ASAP, since it can pose a significant threat if you don't do so.
Garage Door Opens but Doesn't Close: This is a common problem when lenses have an obstruction. This can either be an object is in front of them, or it's dirty. The way to fix this is to simply clean the lenses.
Faulty Remote: When the remote isn't working, first check if your garage door opens from its switch. If it does, then simply replace your remote's batteries. It this doesn't work, then you'll need to resync your remote with the opener. If this too fails, then it's time to replace your remote.
How to Repair a Garage Door: Springs and Cables
Before starting, you need to know that not anyone can fix garage door springs and cables. As a matter of fact, there are cases in which you'll need a professional to take care of the job. However, if you follow these instructions in fixing garage doors, you should have no problem.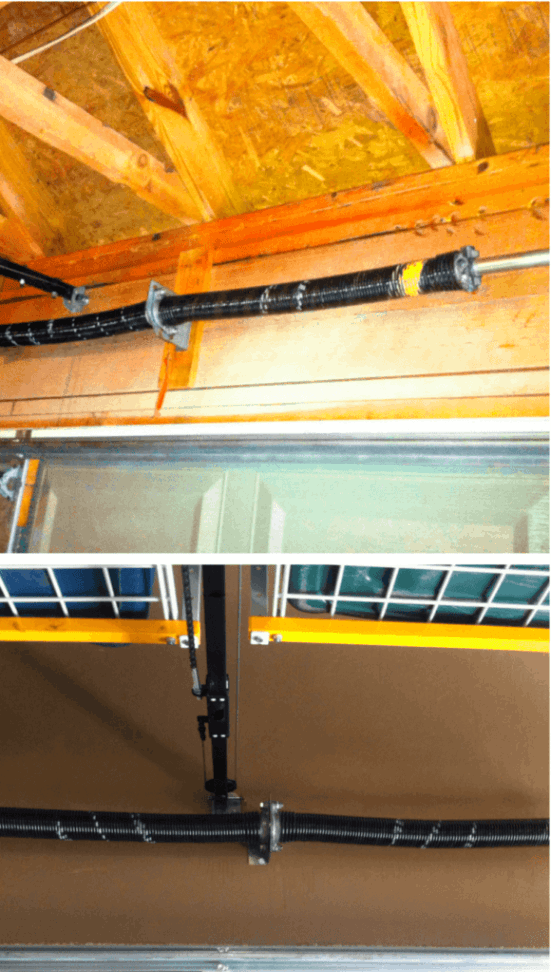 You'll need the following tools and materials:
Hammer
Clamps
Protective gear such as safety goggles and leather gloves.
Hammer
Wrench set with an adjustable wrench
Drill
Locking pliers
Winding bars
Ratchet & socket set
Lift cables
Torsion springs
Bottom brackets
Bear in mind that this is to rebuilding the torsion spring system and not to replace your garage doors springs. Also, you need to find out how much you'll save yourself by doing this type by yourself. 
There are cases in which you won't save yourself much money. For this reason, we encourage you to always perform some basic research before even beginning the job. That way, you'll be able to know the difference between a professional garage door repair cost and doing the project yourself.
The steps in how to repair a garage door are the following:
Locking the garage door & loosen the unbroken springs
Unwind and disconnect the springs from center bracket
Secure torsion tube and remove old springs
Installing new center bearing and left spring
Replace rollers, lift cables, and bottom brackets
Thread wires and tighten drums
We'll go over each of these.
Step #1: Locking the Garage Door & Loosen the Unbroken Springs
You'll first start by clamping the garage door using the locking pliers and clamps. This is to help prevent any accident that might occur due to an unlocked garage door.
Then, using your winding bar, you'll loosen the good spring. Place it into the winding cone and start loosening the setscrews. Be careful, since the spring can rotate aggressively when loosening it. 
Step #2: Unwind and Disconnect the Springs from Center Bracket
Using a second winding bar, place it into the next hole, making almost a 90-degree angle between the winding bars. After that, remove the first winding bar and turn the spring. Do this in passing over motion. 
Remove the bolts and nuts that are in the stationary cones. After that, try to slide the springs to the brackets that are in the end.  
Step #3: Secure Torsion Tube and Remove Old Springs
Use your locking pliers to loosen the setscrews that are on the right and left light cable drums. Then, disconnect the cables. 
When you finish disconnecting the cables, start on the left side of the door by sliding the torsion tube to the right. That way, you can remove the cable drum. Lastly, you can push the broken spring off the tube.
Step #4: Installing New Center Bearing and Left Spring
First, you'll need to reassemble by sliding the replacement of the torsion spring onto the tube. Keep in mind that during this step, you'll need to have the stationary cone facing the center bracket. After that, you'll be able to install the cable drum again and reinsert the torsion bar.
Second, you'll need to connect the stationary cones onto the bracket by sliding the center bearing onto the torsion bar.
Step #5: Replace Rollers, Lift Cables, and Bottom Brackets
This is the perfect time to change any rusted rollers, cables, and bottom brackets. You can do this by first placing the lift cable loop onto the new bottom bracket. 
Step #6: Thread Cables and Tighten Drums
Lastly, you'll need to secure the lift cable onto the cable slot. Also, remember to tighten the drums by using the pliers. After that, it's time to wind the wire, tightening as much as possible before placing the setscrews. 
Lastly, you'll want to make sure that both sides of the garage door are tightened equally. That way, your door will open adequately and evenly.
Tips in Keeping Your Garage Doors in Top Shape
After fixing your garage doors, always bear in mind to take care of it in the future. That way, you'll help prevent any type of future problems that can cost you up in costly repairs.
These are some tips that'll help you keep your garage door in top shape:
Keep your garage door's nuts and bolts tight.
Lubricate the pulleys, cables, rollers, and the overall drive mechanism.
Adjust both your springs and door openers.
Set limit switches.
Keep chains tightened up.