Houston garage door company G.S.P Garage Door Repair Houston celebrates the Super Service Award. The company is lead by Ryan Wood an expert in garage door service. The staff has been dedicated to excellence and now that dedication has been rewarded.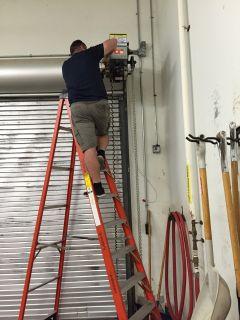 G.S.P. Garage Door Repair Houston, a locally owned and run garage door provider and service business, is proud to celebrate the Super Service Award from Angieā€™s List. TheĀ Houston garage door repair service companyĀ is proud of the ability to not just satisfy, but to surpass customerā€™s expectations. 2017 Super Service Award winners must meet strict eligibility requirements, which include maintaining an ā€œAā€ rating in overall grade, recent grade and review period grade. The SSA winners must be in good standing with Angieā€™s List, pass a background check, submit a current trade license attestation and abide by Angieā€™s List operational guidelines.
Founded by Ryan Woods, a knowledgeable garage door technician with over 15 years of experience in the garage door service and repair work industry. Garage Service Proā€™s goal is dedicated to offering the highest quality garage doors and garage door services in the Houston area.
ā€œWe are experts when it comes to repairs most ALL brands of garage door openers. From the simplest of repairs to the most technical, we are the best choice forĀ Houston TX residential and commercial garage door opener repair. Our technicians have the experience, knowledge, and tools necessary to repair or service any type of garage door opener.ā€ said Ryan Woods, the owner of the company.
Mr. Woods added, ā€œWhen checking out our reviews left by the pleased clients of Garage Service Pro on Google, lots of clients commented about the overall professionalism and quality of the services offered by the team. Others remarked that the staff were knowledgeable, friendly, and happy to make sure that their repairs were done correctly and that their requirements were fulfilled.ā€
GSP Garage Service Pros is a family owned and operated local garage door repair and service company. They offer garage door installation, repair, and maintenance services to residential and commercial customers. TheĀ best Houston garage door repair company reviewsĀ are on their website.
About Garage Service Pro
Garage Service Pro is a Houston garage door repair business serving the entire metro. Established by Ryan Woods who has over 15 years of experience in the garage door repair work industry. More information about the company can be found at the company websiteĀ https://www.garageservicepros.com/garage-door-repair-houston
Contact Info:https://www.garageservicepros.com/
Name: Ryan Woods
Organization: G.S.P. Garage Door Repair Houston
Address: 3262 Westheimer Road Ste 435, Houston, TX 77098, United States
Phone: +1-281-928-1837
For more information, please visitĀ https://www.garageservicepros.com/garage-door-repair-houston/