You should control who enters and leaves your home. Also, your home should be secure so that you can sleep tight like a baby. That's why you should keep your sweet home protected. One of the best ways to boost your home security is by installing the LiftMaster WLED Wi-Fi garage door opener.
It's such a marvelous piece of technology. Its many features will increase your convenience and home security. So, today, we decided to inform you about the benefits of the LiftMaster WLED Wi-Fi garage door opener. You'll be surprised by the things it can do for you.
Impressive Benefits of the LiftMaster WLED Wi-Fi Garage Door Opener
In a few words, the new LiftMaster garage door opener has some high tech features like LED lights, motion detection, WiFi connectivity, and much more.
1. Your Garage will Be Lit from Corner to Corner!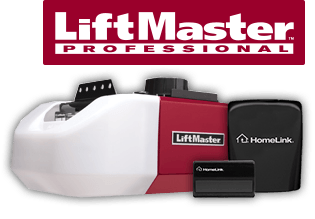 When it comes to purchasing a new garage door opener, lighting quality is usually the last item most homeowners are concerned. Although lighting is generally low on the priority list, light can play a huge part in safety and garage usability. A great lighting system in your garage can thwart off a burglary attempt, or it can be a crucial part of setting up an ideal space for you to get the most out of your garage.
Well, one of the benefits of the LiftMaster WLED Wi-Fi garage door opener is that your garage space will be lit from corner to corner. This is LiftMaster's first LED lit garage door opener.
Until now, LED light bulbs were known to cause frequency interference issues, causing range issues on the remote and keypad functions. Liftmaster answers this issue by redesigning a new head unit with corner to corner LED lighting.
By installing this great piece of tech, you'll see your garage in a whole new light. 
2. The Most Powerful and Quiet Garage Opener Yet!
One of the best things about the new LiftMaster WLED belt-drive garage door opener is that it is powerful and yet quiet.
This opener has an ultra-quiet DC motor, and soft start/stop smooth operation ensures comfortable living spaces near the garage. So, enjoy the extra peace installing this extra-strong belt-drive opener.
If you want to learn additional aspects in a more detailed way of this WLED opener, you can visit LiftMaster website.
3. A Garage Opener with a 24-Hour Battery Backup
One of the best benefits of the LiftMaster WLED Wi-Fi garage door opener is that it has a 24-hour battery backup.
So, this battery will power the opener for up to 24 hours if the electricity goes out.
Don't have to worry about that. If the power goes off, you can still operate the door normally.
Although the opener lights won't turn on and the door will run slower, we know that this is a small price to pay. You'll open your garage door at any time, no matter if power is gone. Note that you'll need to replace the battery from time to time, which can cost around $20-$30 from stores like Walmart.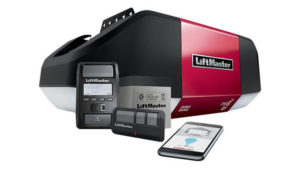 4. Control Your Garage Door Opener from Anywhere with Your Phone
You can also control the LiftMaster WLED garage door with your phone no matter where you are in the world. This opener is complete with built-in Wi-Fi and powered by myQ® technology.
Some of the Features of Using the myQ App Are:
Garage Control from Anywhere: Open and close your garage door with your smartphone. You can even be on the go and still be able to open to let a family member, a friend, a contractor, a housecleaner, or any other person into your home at any time.
Real-Time Notifications: Get alerted any time your garage opens, closes, or is left open. This is important because, like all people, you keep valuable things in your garage like cars, tools, sporting equipment, bikes, and many other valuable belongings. If you are not at home, don't worry. You'll be able to check and see if it is open or know what is happening in your garage at any hour.
Preset Scheduling: Set a schedule for your garage to close at a certain time. This is handy when you are away from home, and you need to let people in and out.
Access Sharing: With myQ Guest, you can invite up to three people to control your garage door opener.
Smart-Home Integrations: Link your myQ to other smart-home devices and platforms.
You can also use the app as a door opener if you happen to lose the remote control that comes with the LiftMaster.
5. You'll Count on Excellent Safety and Motion Sensors
When it comes to keeping your family safe, garage door sensors are key! They act as the eyes of your garage doors, sensing anything that might block the garage doors. 
With the LiftMaster WLED, you'll have infrared safety reversing sensors on both sides of your garage doors. These sensors will keep vehicles, pets, and people unharmed. Not only that, but it also has the technology of adjusting to climate change.
The LiftMaster WLED also counts on motion sensors that'll automatically turn lights on every time you walk in. You'll have an LED display that shows you the temperature and time as well! 
Lastly, you'll have a lock system that locks out anything you program it to, as well as a fantastic alert system too! You can be sure that your house will be safe at all times, no matter if it's an emergency or if you're away!
Have an Excellent Garage Door Opener with the LiftMaster WLED!
As shown, the benefits of the LiftMaster WLED Wi-Fi Garage Door Opener are plenty. From having a 24-hour battery backup to counting on 3,100 lumens that light up your garage in an instant, you can be sure that you made the right decision when opting for the LiftMaster WLED!
When It Comes to Proper Installation, Contact Our Team
Looking for professionals that'll do a superb job installing your garage door opener? Seek no more, because Garage Service Pros has everything you need and more! Our crew provides first-rate quality solutions to our clients.
As a matter of fact, our squad won Houston's number one Choice Award because of our fantastic garage door services!
If you want to enjoy all of the benefits of the LiftMaster WLED Wi-Fi garage door opener, then you should have the best to install it. Get in contact with our team of professionals today to get your free estimate!